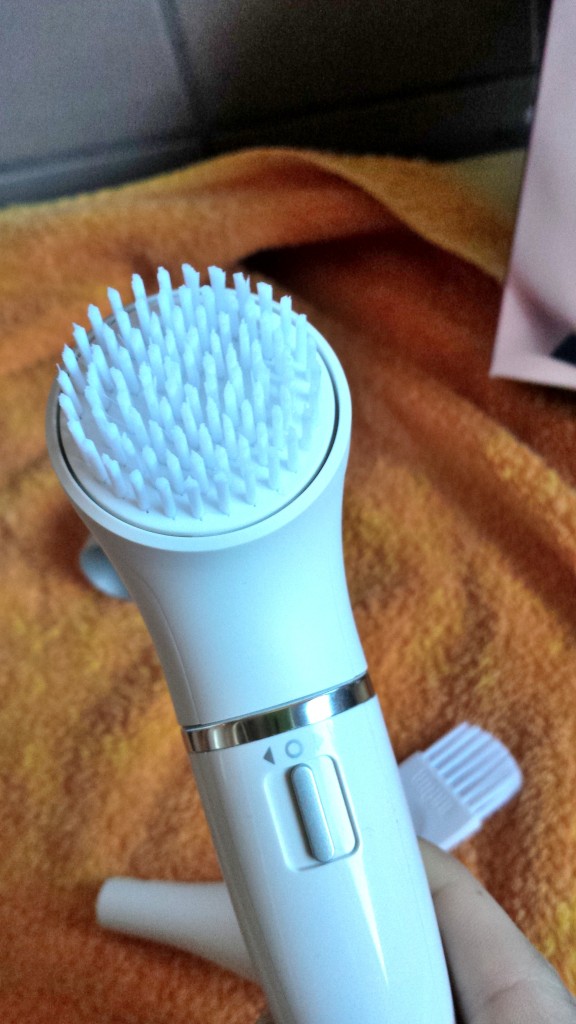 Hello my loves,
hope you had great christmas days so far. Today I want to give you a "field report" about one of my christmas gifts. Some time ago I decided to buy one of those cleansing brushs but now I got one for christmas 🙂 The brush is from Braun. The exact model declaration is Face Spa No. 810 (Type 5365). The package encludes: brush adapter, cleansing brush, epilation head, protective cap, little brush for cleaning the epilation head.
I used the only the last two days now and I am very excited. Normally I get red points from peelings and brushes that to work to strong on the skin. But this normal cleansing brush which is included in the package works good with my sensitive skin. The skin is cleaned great (you can buy additional brushes for peeling, sensitive skin and a sponge adapter too) and I also tested the epilation head. You can use the epilation head for your chin, the upper lips, the forehead and to shape your eyebrows. In the fact of my bright hair and skin color I don't need to epilate body hair in my face. But now I can shape my eyebrows by my own and don't have to go to a beautician any more. The epilation head is great you only need to have some exercise. And you have to be careful that you don't shape too much eyebrows 😉
Summary: If you don't have a cleasing brush until now I would absolutely suggest you this model vom Braun. It currently costs around 60,- € and is on sale right now – here!
Wish you a great 2nd christmas day / boxing day!
Susanne
Hallo Ihr Lieben,
hoffe Ihr habt die Weihnachtsfeiertage bisher gut verbracht. Heute gibt's einen kleinen Erfahrungsbericht über mein diesjähriges Weihnachtsgeschenk. Hatte mir schon lange vorgenommen einmal eine Gesichtsbürte auszuprobieren und nun habe ich doch wirklich eine geschenkt bekommen 🙂 Das tolle Gerät ist von Braun. Die genaue Modellbezeichnung ist Face Spa No. 810 (Type 5365). Im Paket sind folgende Teile enthalten: Bürsten-Adapter, Bürstenaufsatz, Epilieraufsatz, Schutzkappe, kleines Bürstchen zum Reinigen des Epilierkopfes.
Ich bin jetzt schon schwer begeistert von dem Gerät da ich eine sehr empfindliche Haut habe, die schnell in Form von Rötungen reagiert. Bei der Behandlung mit der mitgelieferten normalen Reinigungsbürste hat aber alles super funktioniert und die Haut ist auch super gereinigt. Idealerweise kann man auf Wunsch noch weitere Bürsten für sehr empfindliche Haut, für ein Peeling oder auch einen Schwammaufsatz erwerben.
Den Epilieraufsatz ist speziell für das Gesicht konzipiert und auf Kinn, Oberlipp, Stirn und zur Formung der Augenbrauen benutzen. Da ich ein heller Haar- und Hauttyp bin habe ich bisher immer auf die Entferung der Körperhaare im Gesicht verzichtet. Aber den Kosmetiktermin bezüglich Augenbrauen-Zupfen kann ich mir in Zukunft sparen. Hier habe ich den Epilieraufsatz angewendet und mit ein wenig Übung geht das super und tut auch garnicht weh. Etwas Vorsicht sollte man beim Ansetzen des Epilierkopfes dennoch haben sonst sind ruckzuck zuviele Augenbrauen entfernt 😉
Fazit: Wer noch keine Gesichtsbürste hat dem sei dieses Modell wärmstens empfohlen. Es kostet aktuell knapp 60,- € und ist unter anderem hier im Sonderangebot! Also in jedem Fall eine Überlegung wert.
Wünsche Euch noch einen schönen 2. Weihnachtsfeiertag!
Susanne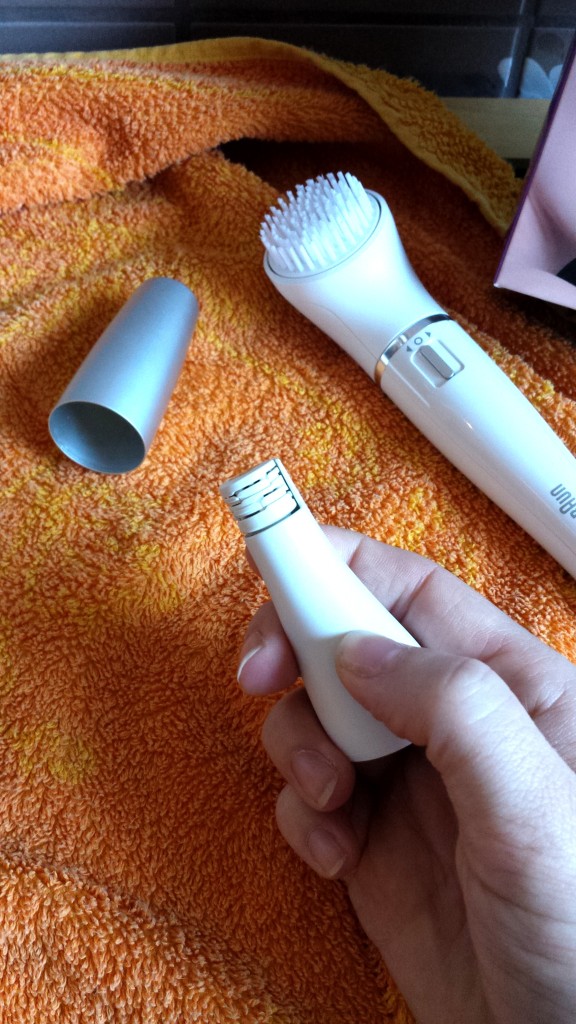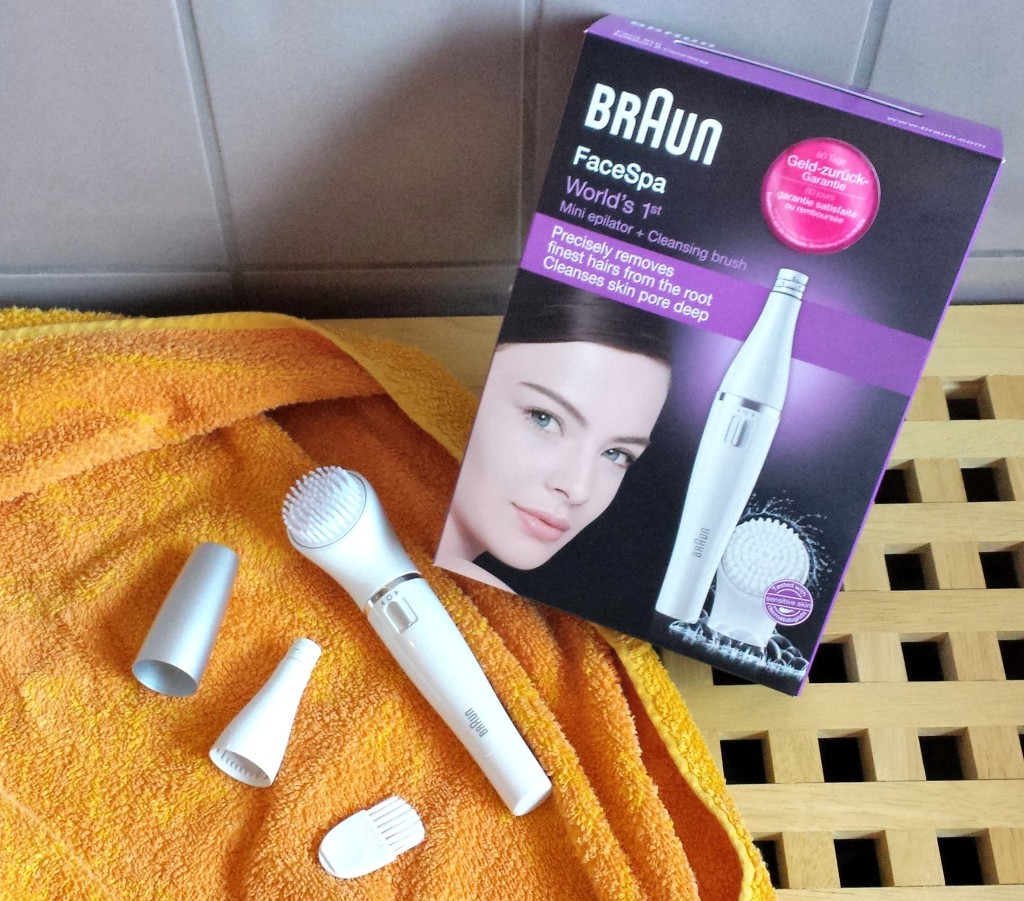 You might also like